Southern Cross fans flames of continuing culture war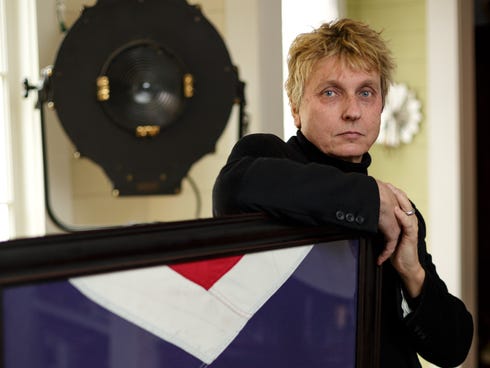 Sons of Confederate Veterans Commander in Chief Michael Givens is photographed in the living of his home in Charleston, S.C., with a large framed Confederate flag he received as a gift for recently speaking at an event in Tennessee. Givens heads the national organization behind many of the lawsuits challenging restrictions on the Confederate battle flag. / Brett Flashnick for USA TODAY
Each fall in Bee County, Texas, the raising of the Confederate battle flag, also known as the Southern Cross, traditionally kicks off the annual Western Week festival. But last October, the flag didn't fly.
Citing concerns the flag was offensive, county commissioners in September banned it from the county grounds flagpole. "It's been happening every year but finally people started coming forward and saying this is wrong," said Bee County Commissioner Eloy Rodriguez, who voted for the ban.
The decision set off a firestorm, says Rodriguez, pitting those who view the flag as a symbol of hatred against others who say the flag is merely a symbol of Southern heritage.
"I see it the same way a World War II veteran would see the U.S. flag," said Brandon Dorsey, camp commander of the Sons of Confederate Veterans â?? Stonewall Brigade Camp in Lexington, Va. "It's a symbol of pride and (our ancestors) doing what they believed they knew to be right in their time."
Nearly 150 years after the end of the Civil War, a battle still is being fought over the display of the Southern Cross. Supporters say the banner, originally used only in battle because the Confederate national flag was too similar to the U.S. flag, is misunderstood and that their right to free speech is being violated. But opponents charge the flag, used for decades after the war by the Ku Klux Klan and other hate groups as they terrorized and killed blacks, is an ugly reminder of those horrific actions and its use must be curtailed.
After the war, the battle flag -- a red background with a blue X or cross decorated with white stars -- became a symbol of Confederate values and a rallying point to stabilize the South, says Louisiana State University-Shreveport history professor Gary Joiner. "The people who are thoughtful about what they are saying teach a lesson of heritage not of hatred," said Joiner, who noted the flag should only be used as a historical reference.
Display of the flag in a non-historical context increasingly is being restricted, says NAACP spokesman Hilary O. Shelton. That trend, Shelton says, is due in large part to the economic boycott the group has urged since 1999 against South Carolina and other states that fly the flag, and to increased public awareness of the flag's infamous history. "People are seeing more and more that it's offensive," said Shelton, senior vice president for advocacy and Washington D.C. bureau director. "(They are realizing) it's not productive for us as a nation to maintain the tension that comes along with (displaying) that flag with such prominence."
That argument is finding favor:
--The Agua Fria Union High School District in Avondale, Ariz., banned wearing, displaying or other "non-educational" use of the flag after a teen who was displaying the Confederate battle flag on his truck was involved in a November altercation with another student.
--In Knoxville, Tenn., members of Sons of Confederate Veterans Longstreet-Zollicoffer Camp 87 were not allowed to march in a November Veteran's Day parade because of concerns the group's participation could involve the flag.
--In Shreveport, La., a Confederate flag that flew in front of the Caddo Parish Courthouse was taken down in 2011 after the state's Supreme Court, in ruling on a death sentence appeal, recognized that the flag might be offensive to some people.
--The National College Athletic Association has maintained a policy since 2001 that doesn't allow "predetermined championship" events to take place in states, South Carolina and Mississippi among them, that fly the Confederate flag.
Taking down the flag sends a message that racism won't be tolerated, says Shreveport, La., NAACP chapter president Lloyd Thompson. The flag, often displayed by current-day white supremacists, is a signal of a racially divided community and that some desire a return to a segregated society, Thompson says. "We don't need to go back to that - we need to move forward," Thompson said.
Michael Givens, Sons of Confederate Veterans commander in chief, says that characterization is unfair and untrue. The emblem used by his group is meant to honor the service and history of those who served and sacrificed for the Confederacy. Givens maintain restricting the flag's use not only is unconstitutional but also discriminatory. "They seem to sending a mixed message that you have to conform to somebody's prejudice and you shouldn't speak out," said Givens of those who want to restrict the flag's use. "America has really lost sight of what it is and what it means to be an American. We're all allowed to have opinions without being chastised for it."
Despite protests, the Southern Cross still flies at the South Carolina Statehouse. In Texas, the state's division of Sons of Confederate Veterans is suing the Motor Vehicle Board for its 2011 rejection of the group's application for a specialty license plate depicting the Confederate flag. The group maintains the decision tramples on their First Amendment right to freedom of speech, according to court filings, and notes it already has similar license plates in Georgia, North Carolina, Alabama, Maryland, Mississippi, Louisiana, South Carolina, Tennessee and Virginia.
The flag most certainly is a controversial symbol, says the group's Austin, Texas-based lawyer John McConnell. But the state shouldn't be silencing citizens' viewpoints on a subjective basis. The courts have long recognized that "offensive" speech also needs protection, said McConnell.
Freedom of speech is one of the country's most valued rights but comes with legitimate restrictions, says Texas NAACP president Gary Bledsoe. As a symbol of "white supremacy and a desire to bring ill upon" blacks, the Confederate battle flag falls under that category, Bledsoe says.
"It shouldn't be protected," said Bledsoe, also an Austin lawyer.
Rodriguez says while he understands the flag's importance to some - in a compromise the commission did not restrict Western Week participants or vendors from wearing or displaying the emblem - those proponents must be mindful its use comes with a cost. "If you're doing that to honor relatives and honor Southern heritage (fine) but be aware there are people that are going to be offended by it," Rodriguez said.
http://www.jconline.com/usatoday/article/5498733